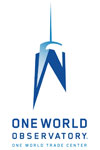 One World Observatory - Freedom Tower: Skip the line
お値段 4136 ¥
The One World Observatory is the highest observatory in the western hemisphere! You reach the top in less than sixty seconds! From up there you can enjoy a spectacular view of the horizon. Book one of the hottest tickets in town, and skip the line to the Observatory deck!
Highlights:
- Skip the line to the ticket office
- Visit the observation decks on the 100th and 102nd floor
- Enjoy the spectacular 360-degree view over New York
- Stay as long as you like

See New York from above
In May 2015, the One World Observatory Deck opened on the 100th & 102nd Floor at One World Trade Center making it the highest observatory deck, at the top of the highest building in the Western Hemisphere. The Freedom Tower offical name is One World Trade Center, as it is built on the ground where the old iconic World Trade Center stood, until that terrible day September 11, 2001.

Upon entry, you'll be greeted in the Global Welcome Center, where a large video board features salutations in an array of languages, and a dynamically generated world map highlights the hometowns of visitors. You will experience a program called 'Voices,' which tells the personal stories of the men and women who built One World Trade Center. Next, you can get a close-up view of the very bedrock on which the building stands.

You then board one of five dedicated elevators to ascend to the 102nd floor in under 60 seconds. At the top, you'll experience a virtual time-lapse that recreates the development of New York City's skyline from the 1500s to present day.

Hereafter you will watch a two-minute video presentation that combines bird's eye imagery, time-lapse shots with abstract textures and patterns to present the unique pulse of New York City in three dimensions.

On the 100th floor of the Observatory, also known as the Discovery Level, you will experience expansive, 360-degree views in all directions, taking in the iconic sights and surrounding waters.

How do I get my tickets?
We need to book your personal tickets, so it may take up to 48 hours before you will receive your e-ticket by mail. Please print out your e-ticket and bring it with you to One World Observatory.

How does it work?
You simply select your date and time you'd like to visit One World Observatory. Please arrive 15 minutes before your entrance time.

How long are my tickets valid?
Your tickets are only valid on the date and time you have chosen when booking your tickets.

Are there children's tickets available?
No, but children under age 6 are free when accompanied by a paying adult.

Important information:
- Please note you have to proceed through security to access One World Observatory, so please do not bring large backpacks or luggage.
- Our e-tickets do not skip any lines there might be at the security check and at the elevators going up and down from the observatory deck, only the entrance to the tower.
One World Observatory - Freedom Tower: Skip the line 情報
One World Observatory - Freedom Tower: Skip the line
One World Observatory is located at:
One World Trade Center,
285 Fulton Street,
New York, New York, 10007
情報
One World Observatory - Freedom Tower: Skip the line
Jan 1st 2018 – Apr 30th 2018: 9AM–9PM (last entry at 8:15)
May 1st 2018 - Sep 4th 2018: 8AM–9PM (last entry at 8:45)
Sep 5th 2018 – Dec 31th 2018: 9AM–9PM (last entry at 8:15)

July 4th: 8AM-6PM (last entry at 5:15)
September 11th: 12PM–9PM (last entry at 8:15)
December 24th + December 31th: 9AM–7PM (last entry at 6:15)


方向
方向
The nearest metro stop is: World Trade Center station.



地図を見る