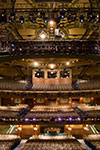 Exclusive Disney on Broadway Tour
お値段 8758 ¥
Join our Broadway Insiders for a guided walking tour; then a special tour to The New Amsterdam Theatre, visiting Disney's Prop Studio getting up-close and personal with original props, costumes, and set pieces that bring the world of Disney Theatrical to life.

Highlights:
- Enjoy a 2-hour guided tour of the best of Broadway
- Discover the magic of Broadway productions
- Get a special guided tour of Disney's landmark New Amsterdam Theatre
- Visit to the New Amsterdam Theatre's Costumes & Props Studio
- Ensure you don't miss a word from audio headsets
Enjoy a Broadway Insider Disney Tour
Spend a full hour with the in-house historian, learning about the history of this incredible building. You'll have the place to yourself so you can visit the first floor and balcony levels, admiring the vast stage as your guide describes what goes into the creation and performance of a Broadway production like Beauty & The Beast, Mary Poppins, Aladdin and The Lion King. You'll hear stories of the goings-on behind the scenes and learn about the superstitions held by Broadway performers — including a few ghost stories.
The highlight of the experience is in the second part of your New Amsterdam tour. You'll visit the Prop Studio, where you'll find treasures untold, getting up close and personal with original props, costumes and set piece for many of your favorite Disney on Broadway musicals.
While we do spend a lot of time on the Disney element of our tour (you'll hear audio recordings from shows and learn lots of fun Disney trivia), we don't just stop there: This is a proper Broadway tour.
To ensure that you get a full picture of Broadway and that you have as much context as possible when you visit the New Amsterdam, you'll take a guided tour of Broadway before your visit, stopping at landmark theatres where legendary shows drew huge crowds and global attention.
You'll also discover the unlikely origins of Times Square and hear the rags-to-riches tale of NYC's theatre district (and how Disney was instrumental in changing the fate of a notorious red light district).
With your Broadway Insider guide, you'll see the most popular cast hangouts and identify the most important theatres — in both a historic sense and from a theatrical and musical standpoint.

How do I get my tickets?
Shortly after your booking is complete your e-ticket will be sent directly to your email, just print it out and bring it on your tour.
Where does the tour begin?
The tour starts infront of the George M. Cohan statue at West 46th Street between Broadway and 7th Avenue. Please be there 15 minutes before the tour starts.
Where does the tour end?
The tour ends at The New Amsterdam Theatre. On occasion the tour may end within walking distance of the theater.
How long does the tour last?
The tour lasts 2 hours.
Are there children's tickets?
Yes, children's tickets are available for children between age 4-12. Children under age 4 are free when accompanied by a paying adult.
Exclusive Disney on Broadway Tour 情報
Exclusive Disney on Broadway Tour
Meet your guide by the George M. Cohan statue at West 46th Street between Broadway and 7th Avenue towards the end of the block.

情報
Exclusive Disney on Broadway Tour
The tour departs Monday, Friday & Saturday at 10 AM.
方向
方向
The closest subway is Times Square/42nd Street.



地図を見る