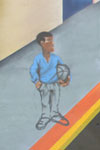 NYC Graffiti Tour
お値段 4352 ¥
New York is known for its substantial art history. But what you may not have known is that the early hip hop community was responsible for much of the underground art that had taken over the urban landscape of New York City.

Highlights:
- Enjoy a 2 hour guided graffiti tour around Harlem
- See the work of local and international artists
- Learn the difference between street art and graffiti
- Amazing photo opportunities

Experience the Graffiti of Harlem
On this NYC Graffiti Tour we'll take you around some of the best examples of street art, graffiti, and mural art in the city. We'll also take you to see where numerous local and international artists in the streets of Harlem showcase their work.

Your guide will also share with you the difference between true street art and graffiti and the 'unwritten rules' of the street art community, so you'll be able to see the 'language' of this art community.

If you're an art lover, graffiti artist, or someone that wants to see a side to street art that few people have experienced, when this tour is for you!

The tour is operated in English.
How do I get my tickets?
Shortly after your booking is complete your e-ticket will be send directly to your email, just print it out and bring it on your tour.
Where does the tour begin?
The tour starts outside Lexington Social. Please be there 15 minutes before the tour starts.
How long does the tour last?
The tour lasts 2 hours.
Are there children's tickets?
Yes, children's tickets are available for children between age 6-18. Children between age 0-5 are free when accompanied by a paying adult.
NYC Graffiti Tour 情報
NYC Graffiti Tour
The meeting point is outside of Lexington Social:
1634 Lexington Avenue
New York, NY 10029
情報
NYC Graffiti Tour
The tour operates Tuesday at 11 AM.
方向
方向
The closets subway stop is: 110 St.



地図を見る