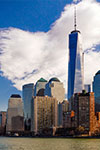 Stories from the Dark Side w. NYPD Guide
お値段 7448 ¥
Enjoy a 3-hour walking tour with a retired NYPD officer or detective, learning the shocking truth of New York's organized crime rings, white collar millionaires and modern scandals. Together you'll visit the Lower East Side, Wall Street, and Little Italy; breeding grounds for all types of outrageous NYC criminals, from Captain Kidd and Boss Tweed to John Gotti, Leona Helmsley, and the real Wolves of Wall Street.

Highlights:
- Enjoy a tour with a retired NYPD officer or detective
- Learn the turbulent histories of gangs of New York
- Visit the Lower East Side, Wall Street, & Little Italy
- Hear about the historical 'crimeline' of New York
- Learn about gangs, scandals, and mafia
- Enjoy a small, intimate group of max. 15 people

Explore New York's Dark Side
Starting in Lower Manhattan, you'll learn of political intrigue and corruption in New York City stretching back hundreds of years. You'll also hear stories about power and money on Wall Street; whether trying to overthrow the US Government or literally getting away with murder.
Salaries drop and life becomes a little more rough as you move towards the Lower East Side. Here you'll see the infamous tenement buildings where immigrant families lived in cramped conditions. Five Points was a particularly notorious spot, so infamous in the 1800s that Charles Dickens came to have look for himself, not believing it could be as bad as all that (it was, as your guide will tell you). Learn how true to life the movie Gangs of New York really was and whether Irish gangs really lived in burrows under the streets here.
Of course it wasn't only Irish gangs that terrorized the streets of NYC in the last few centuries. Stroll through Chinatown to learn about violent turf wars fought here during the 1970s and 1980s. Little Italy has had its fair share of crime too, with infamous mafia families operating out of its coffee shops and restaurants all through the 20th century. But was it really as dramatic as The Sopranos would have you believe? Your NYPD guide has the inside scoop.

New York City crime tours don't get any better than when they are lead by retired NYPD police officers and detectives. Having spent a lifetime walking these streets chasing criminals,your guide will tell you about incredible, historic scandals but also their own personal anecdotes, ensuring you much more personal experience.
How do I get my tickets?
Shortly after your booking is complete your e-ticket will be sent directly to your email, just print it out and bring it on your tour.
Where does the tour begin?
The tour starts in front of Fraunces Tavern on Pearl St. Please be there 15 minutes before the tour starts.
Where does the tour end?
The tour ends at Umberto's Clam House on Mulberry St.
How long does the tour last?
The tour lasts 3 hours.
Are there children's tickets?
Yes, children's tickets are available for children between age 4-12. Children under age 4 are free when accompanied by a paying adult.

Please note that this tour may not be suitable for young children as subject matter may be graphic and disturbing.
Stories from the Dark Side w. NYPD Guide 情報
Stories from the Dark Side w. NYPD Guide
Meet your guide in front of Fraunces Tavern, 54 Pearl St. (at Broad St.).

情報
Stories from the Dark Side w. NYPD Guide
The tour departs Tuesday, Friday & Saturday at 10:30 AM.
方向
方向
The closest subway station is South Ferry Station.



地図を見る