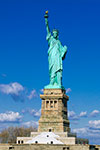 Statue of Liberty, Ellis Island, & 9/11 Memorial Tour
お値段 14516 ¥
See the top two attractions in NYC in one jam-packed day on this amazing package tour. We've taken care of all the details – from organizing tickets for the ferry to Liberty Island, to special access at the Statue of Liberty and pre-reserved tickets for the 9/11 Museum – so you don't need to worry about a thing!

Highlights:
- Enjoy a comprehensive guided tour of Lower Manhattan tour
- Get two tours in one and save
- Visit the Statue of Liberty on Liberty Island
- Get with special access to the pedestal* and get a better view
- Enjoy a guided tour of Ellis Island Immigration Center
- Get a more personal experience of 9/11
- Enjoy a local led tour of Ground Zero
- Explore the 9/11 Museum on your own
- Enjoy a tour group max. 20 people
Experience the Best of Lower Manhattan
Visit two of New York City's busiest attractions: The Statue of Liberty and the 9/11 Memorial.
The tour starts early at Battery Park. With priority boarding you'll be one of the first people aboard one of the first boats to Liberty Island. Once docked, your guide will lead you on a tour of the island and on to the Statue of Liberty. During your guided tour, you'll enjoy special access to the statue pedestal, allowing you to get closer to the statue than general access visitors.

It's back aboard the ferry then for the short ride to Ellis Island. Your guide will walk you through the fantastic exhibits of the Ellis Island Museum, answering any questions you may have. This is where the first part of your tour ends, and with 2-2.5 hours before the next leg of our Lower Manhattan journey, you have plenty of time to spare.

Hop on the ferry back to Battery Park (included in the price) and get some lunch on your way to the meeting point for our afternoon activity a complete 9/11 tour.
Throughout your tours you'll be accompanied by expert local guides, to tell you the fascinating tales behind these landmarks, filling you in on the stories and details you won't get from placards or audio guides.

We start not at the 9/11 Memorial itself, but at St. Paul's Chapel. This is where people gathered after the attack to await news of their loved ones, to mourn, pray and offer support. The walls here are still covered in touching handmade memorials, reminding visitors that 9/11 wasn't just a huge global and political event, but a crippling personal tragedy for thousands of New Yorkers.
The last site on our tour, the 9/11 Memorial Museum, is wonderfully curated, with a artifacts salvaged from the attack and harrowing personal stories. We've found that it's best to visit on your own, as the displays can be quite emotional, but do we have a parting gift. We've pre-reserved your tickets so you don't have to waste time waiting in lines here.
How do I get my tickets?
Shortly after your booking is complete your e-ticket will be sent directly to your email, just print it out and bring it on your tour.
Where does the tour begin?
The tour starts at Pier A Harbor House at Battery Park. Please be there 15 minutes before the tour starts.

Where does the tour end?
The tour ends at the 9/11 Memorial Museum.

How long does the tour last?
The tour lasts approx. 8.5 hours.

Is there a dress code?
There is not officiel dress code at the 9/11 Memorial Museum, but please dress respectfully.
Are there children's tickets?
Yes, children's tickets are available for children between age 4-12. Children under age 4 are free when accompanied by a paying adult.

Important information:
- *Please be aware that the Statue of Liberty pedestal access requires a 215-step climb, with no elevator access. Please note this tour does not include a visit to the Statue of Liberty's Crown, due to security measures in place by the National Park Services who manage the Statue of Liberty.
Statue of Liberty, Ellis Island, & 9/11 Memorial Tour 情報
Statue of Liberty, Ellis Island, & 9/11 Memorial Tour
Meet your guide in front entrance of Pier A Harbor House, 22 Battery Place, in Battery Park, to the right of Statue of Liberty ferry and Castle Clinton.

情報
Statue of Liberty, Ellis Island, & 9/11 Memorial Tour
The tour departs daily at 9 AM.
方向
方向
The closest subway is Bowling Green.



地図を見る